U.S.Sailing's W. Van.Alan Clark, Jr.
Sportsmanship Trophy
This trophy is presented annually to the sailor who best exemplifies the ideals and traditions of good sportsmanship. The award is presented by U.S. Sailing with the recipient from the Twenty-Hundred Club being placed in nomination for the national award.  This award was first presented in 1993.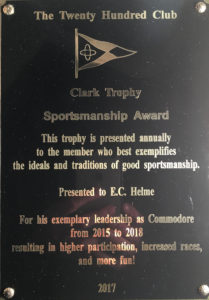 | | | |
| --- | --- | --- |
| | Winners |   |
| 1993 | Tango V | Dr. Ernest H. McVay |
| 1994 | 'R Buoy | John Brady |
| 1995 | Queequeg | Nat Nazareth |
| 1996 | Spunk | Phil Hecht |
| 1997 | ————– | Chuck Kaufman |
| 1998 | | |
| 1999 | | |
| 2000 | | |
| 2001 | | |
| 2002 | | |
| 2003 | | |
| 2004 | No Award Presented | |
| 2005 | Windborne | Scott Schilling |
| 2006 | No Award Presented | |
| 2007 | No Award Presented | |
| 2008 | No Award Presented | |
| 2009 | No Award Presented | |
| 2010 | No Award Presented | |
| 2011 | No Award Presented | |
| 2012 | No Award Presented | |
| 2013 | Bizzy Ball | Tom Heald |
| 2014 | Tamanoa | Gregg Morash |
| 2015 | | Lynne Charlton |
| 2017 | Spirit | EC Helme |