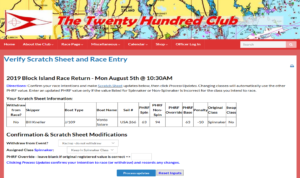 The Twenty Hundred Club is rolling out an enhanced race administration system for 2019 with the following features.
Membership & Race Entry done online via the Shop (no change)
Scratch Sheet automatically populated online using Shop orders (introduced in 2018)
Automatic personalized email reminder sent 7 days before a race.  The email contains a link directing the Skipper to a page where

Race participation is confirmed, or withdraw from race
Option to change Class (Spinnaker/Cruising)
Option to update PHRF value

Scratch sheet set to final the day before the race , locking it from further changes
New scoring system built into website publishes finish results in near real time through the use of a phone on the finish boat – final results will be posted shortly after the committee boat docks and finish times are verified
Race Results include additional columns for time behind the previous boat finishing and time behind the first boat finished.  An option is provided to display results without the Twenty Hundred Club penalty.
The new system should improve scratch sheet accuracy and provide race results in a more timely manner. The 2018 Block Island race results are scored using the new system and may be viewed at this link.